Your roof is key to protecting you and your home from the elements.
How often to re-roof
Asphalt shingles last 20-40 years under typical circum­stances. Low-sloping or flat roofs usually last 15 to 20 years. The life expectancy of a roof is affected by material, mainte­nance, overhanging branches, moss, and weather.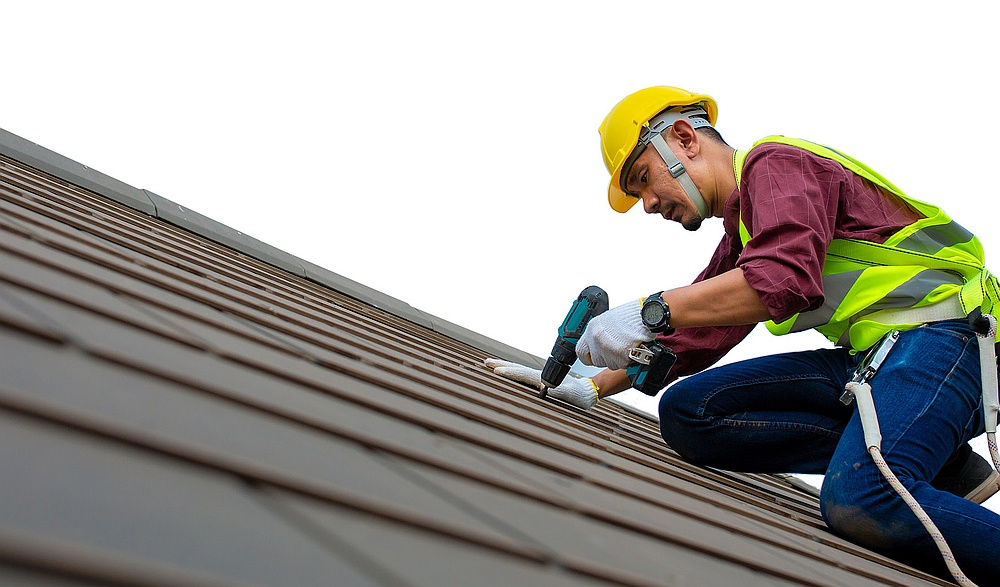 Signs it's time to replace the roof include asphalt shingles that are cracked, curling, missing, or losing their granular layer; rusted metal roof flashing; moss; and of course, leaks.
If in doubt, contact the Club for an evalu­ation by a Club-authorized contractor. It never pays to wait.
Northwest roofers work year-round
It's not necessary to plan your roofing project during a dry season. Pacific Northwest roofing contractors work in all seasons. When roofing work is slow, pricing may be more compet­itive and there may be less of a wait to start your project.
Choose high-quality materials
It is important to use materials that are well suited for our climate, the archi­tecture of your home, and your objec­tives. Club-authorized contractors bidding on your roofing project will provide material recommendations.
Typically, you'll want to maintain the existing roofing style.
It's to your advantage to choose high-quality materials. Labor costs are the same, and you'll rest easy knowing you won't have to re-roof again for decades.
Even if you don't plan to live in the home much longer, lower-quality materials could be a red flag for buyers. Also, home inspectors generally prefer a roof with a life expectancy of a least five additional years.
Your contractor provides the project timeline
How long a roofing project will take depends on the work involved, the size of the contractor's crew, and the time of year (weather can extend the time required). Your Club-authorized contractor will estimate the amount of time needed for your project.
Included services
In general, you can expect a roofing contractor to do the following (but it depends on the contractor and the estimate):
Tear off the old roof, if necessary.
Repair any rotted or bug-infested wood (for an additional hourly rate above and beyond the bid price).
Install the necessary under­layment material(s).
Install any vents and skylights.
Install new metal flashing wherever there's a roof transition.
Install new drip edging above the gutters, if needed.
Install the roofing material.
Haul away old roofing materials and debris.
Excluded services
You should not expect a roofing contractor to:
Repair chimneys.
Install new gutters or repair gutters. Some sub-contract gutter work.
Clean construction debris out of the attic area.
Paint trim, prune branches, or perform other mainte­nance chores around the upper areas of the house.
The Club-authorized roofers who bid on your project will perform compli­mentary roof inspec­tions. They will alert you to issues that may require the services of another contractor. These things are usually flagged as a courtesy.
You may also want to consider hiring a Club-authorized:
Mason for chimney repair.
Gutter specialist to repair or replace gutters.
Carpenter to repair woodwork not included in the roofing bid.
Tree service for pruning trees and shrubs.
Pest-control contractor.
Insulation contractor to add insulation to the attic and clean up debris from roofing work.
Painter to paint the trim around the roof line and eaves.
Cleaning contractor to wash the windows.
Alert the neighbors
Tell the neighbors about your roofing plans. Your roofing contractor may need their permission to set ladders and other equipment on their property. Your neighbors will appre­ciate the notice.
Extend the life of your new roof
Help your roof last longer by:
Trimming back surrounding trees.
Treating moss with environ­men­tally safe products (don't pressure wash!).
Cleaning gutters and downspouts regularly.
Keeping birds and rodents out of the eaves.
Walking on your roof as little as possible.
Get started
Contact the Club with your request for roofing bids.