The siding of a home has two main jobs: Create an inviting exterior look and offer protection from the elements. Common choices include: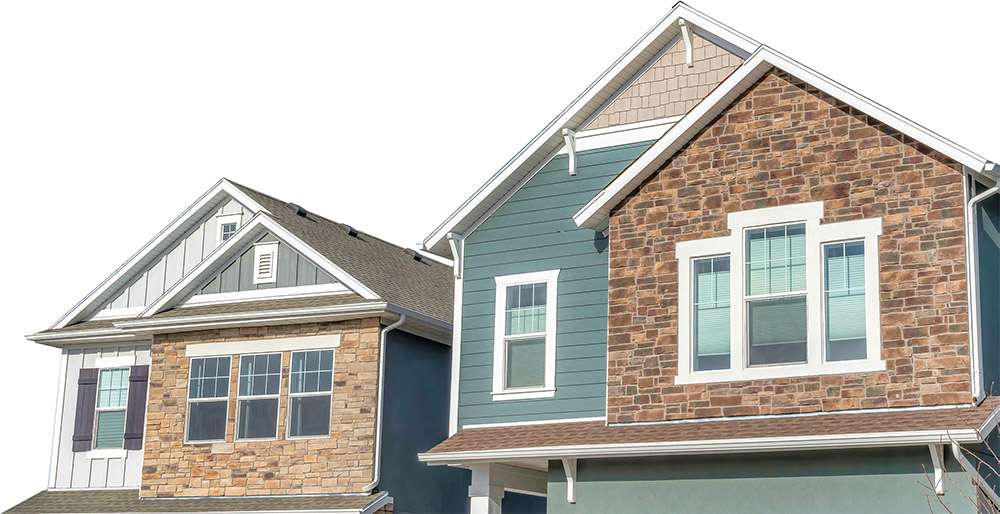 Wood
Wood siding is most often cedar. For best results, installing it requires removing existing siding, and stains and finishes require mainte­nance every 8-12 years. Cedar resists rot, insects, cracks, warping, and expansion and contraction.
While wood siding is typically a higher cost option, it offers timeless beauty and a natural appearance. It's available in multiple grades and finishes, is long lasting with proper mainte­nance, and is easy to shape and install.
Vinyl
Vinyl siding is popular because it is available in many colors and textures, is long lasting, and has a relatively low price point. It's quick to install and is often installed over existing materials. It's a light­weight, low-maintenance choice that resists nicks and scratches, is fire resistant, and can provide additional insulation.
Downsides of vinyl siding are seams are noticeable and it should be protected from impact. Improper instal­lation can result in warping, buckling, mold, and rotting sheathing.
Fiber Cement
Installing fiber cement siding requires removing existing siding and using special instal­lation techniques and tools, which can increase costs. The heavy, stable material – made of a mixture of wood pulp and cement – is low mainte­nance and durable. It resists fire, termites, harsh weather, and rot. Caulk and paint hold up well with it, and it can mimic wood, stucco, or masonry.
Engineered Wood Siding
Early itera­tions of engineered wood siding had moisture issues. These have been resolved. Engineered wood siding is available in a variety of styles, textures, and finishes. It is less expensive than fiber cement or wood siding and is insect resistant. This option can provide the aesthetics of wood siding for a lower cost.
Stucco
Stucco siding is a mixture of cement, sand, lime, and water that requires extensive prep work. When installed correctly, it is a durable, low-maintenance, energy-efficient, and fire and insect-resistant choice.
Brick
The look of brick is classic. Genuine brick is made from fired clay and comes in different sizes and textures. It's a low mainte­nance choice that resists rot, mold, and fire. Installation is labor intensive, though when done properly, brick can last the life of a house. Individual bricks may be difficult to repair.
Stone and Stone Veneer
Stone and stone veneer siding offer durability and visual interest. Stone is a higher cost option and may be challenging to add to an existing structure. Stone veneer offers the look of stone for a lower cost and takes less time to install.
Contact the Club to get connected with Club-authorized contractors.