Doors take a lot of abuse. Constant opening and closing loosens hinges. A settling foundation puts pressure on door frames. Exposure to rain can cause swelling and binding. Weather stripping wears out.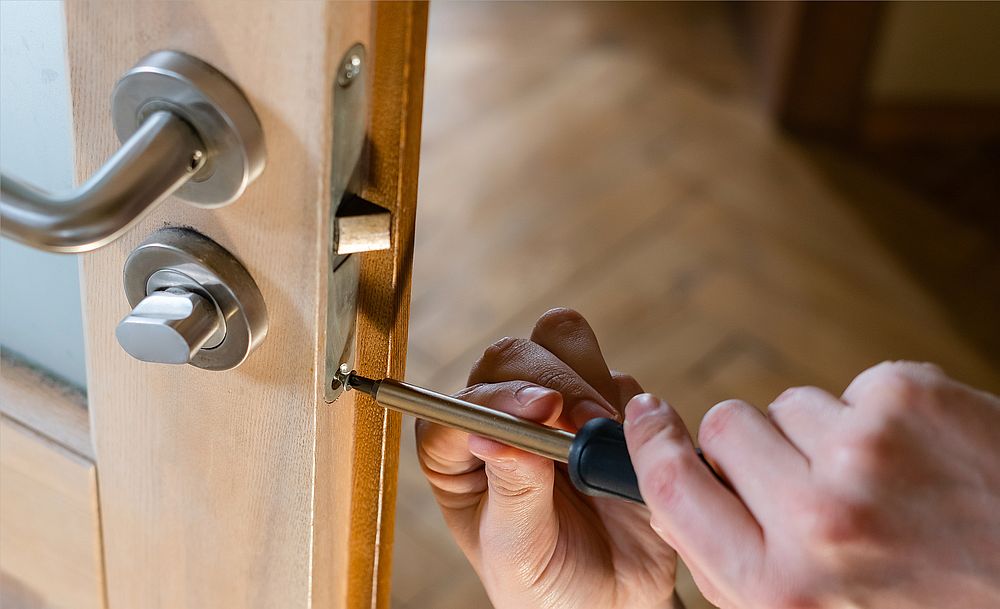 When doors show signs of wear, we often resort to slamming, yanking, kicking, or brute force to get them opened or closed. Do your doors a favor and inspect them once a year. Here's what to look for and what it might take to correct any issues.
Check handles and locks
Door handles and locks should operate smoothly. Try lubri­cating any binding or sticking with liquid graphite (don't use WD-40, which tends to dry out moving parts).
Entry doors should have a deadbolt at least an inch long. The strike plate (the flat metal bracket that anchors the deadbolt in the door jamb) should be at least 1/8-inch thick and mounted to the door jamb with 3-inch screws. If that's not the case, a Club-authorized locksmith can replace the lockset with something more secure.
Check for sticking
Slowly open and close each door in your house two or three times. Listen and feel for any sticking. It's ok if the weather stripping around the door rubs, pinches, or binds, but no part of the door should. To fix a sticking door, the hinges may need readjusting or the door may need to be trimmed.
Inspect the door jamb area
Hinges connect the door to the door jamb. Together, these two items support the weight of the door. Most door jambs are wood; inspect them for splitting. Also, make sure hinges swing without binding or creaking; each hinge has all of its screws; and all screws are secured to both the door and the jamb.
Determine if there's a draft
On a cool or windy day, turn on your home heating system, then slowly move a lighted candle around the inside edge of all entry doors. The flame will flicker when you pass an air leak.
For leaks around door edges, replace the weather stripping. Air leaking through the molding around the door frame indicates exterior siding gaps that need to be caulked with a water­proof sealant.
Assess the finish
Inspect the inside and outside faces of all doors – as well as the sides – for signs of wear. If it's an entry door and the finish is peeling or badly worn, refinish or touch it up as soon as possible. Ideally this is a summer task, so plan ahead. Wood and steel entry doors without a protective finish coat will quickly degrade.
For wood entry doors, also make sure the top and bottom edges are painted or stained. Otherwise moisture can get in and rot them from the inside out.
A final note
Contact the Club for door solutions or referrals to qualified contractors.