A deck is a relatively easy add-on that can boost your enjoyment of your yard. A patio is a simpler enhancement. Before getting started on either, consider: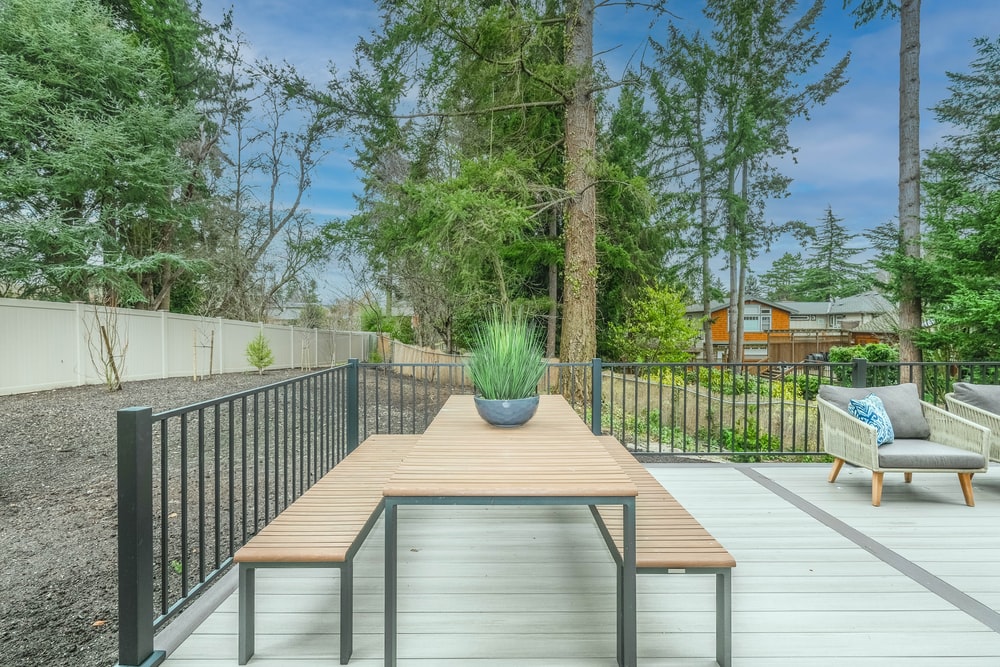 Uses
How will your household use your deck or patio? For enter­taining? Outdoor dining and cooking? Relaxation?
Size
The size of your yard and what you plan to do on your deck or patio inform the size of your project. Ensure your plans accom­modate your desired features. Those could include a firepit, a hot tub, or an outdoor kitchen.
Location
Choose a location that supports your plans:
Close to the kitchen if cooking or enter­taining are priorities.
In a sunny or shady spot depending on your preferences.
Convenient path to and from the house for guests, bathroom access, and quick escapes from bad weather.
Consider marking your chosen spot with stakes and string. Then observe things like sun exposure, yard debris, and moisture.
Materials
Options abound. Patios could be concrete, brick, stone, pavers, even gravel. For decks, many people are aware of the cost and longevity benefits associated with Trex and other manmade decking materials. What many don't realize is combining non-wood products with real wood can bring out the best in both.
As you choose materials, remember they should complement your home and existing landscape.
Maintenance
Ensure your materials choices align with the mainte­nance you're willing to do and meet your expec­ta­tions regarding wear and tear. Solid, flat floors are easiest for cleaning and arranging furniture.
Shelter
Few people seriously consider adding a roof or walls to a deck or patio. Yet a covering can make the space more usable year-round. Consider a permanent roof or retractable awning — something a step up from a canopy or patio umbrella. Meanwhile, a few fence-like wall sections, or even curtains, can provide privacy. Screening will help control both bugs and sun glare.
Seating
Design your space with comfort and conve­nience in mind. Keeping seasonal furniture acces­sible yet protected can become a hassle. With a few built-in benches (maybe even a table), there will always be a place to sit when the mood strikes.
Electrical wiring
The best time to plan the lighting for a deck or patio is before it's constructed — when the wiring can be routed in incon­spicuous ways. Consider anchoring downlights to posts and overhead beams, and outlining parts of the structure with low-voltage incan­descent string lights.
Also give thought to wiring, outlet, and wi-fi needs for things like outdoor speakers, laptop computers, TVs, electric heaters, and fans.
Foliage
Use foliage to blend your outdoor structure with your yard and create your desired atmos­phere. Foliage can also provide color, texture, fragrance, shade, privacy, and noise reduction while adding depth and scale.
Budget
Location, size, materials, and features all affect the budget. Your Club-authorized contractor can help you with options that meet your needs.
Members who want an outdoor structure built should give us a call to get started early!