By Karen Anderson, Club Humorist
I watched with admiration this fall as my friends posted on social media about harvesting, drying, canning, pickling, freezing, and otherwise preserving all the fruits and vegetables that came out of their gardens.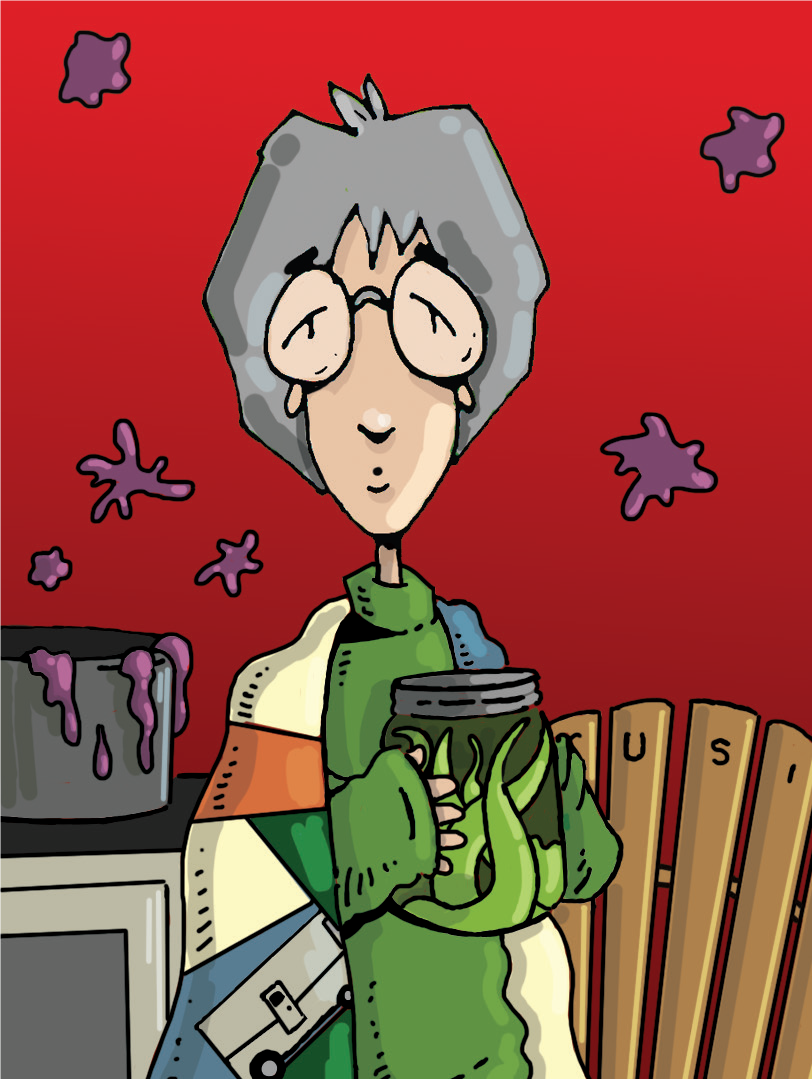 I salivated over their straw­berry jam. I swooned over their scarlet runner beans. And I made snide remarks to The Scholarly Gentleman along the lines of, "Who on earth would eat kombucha-and-espresso-bean jalapeno relish?"
We're about to find out. The theme for holiday gift giving this year is "Homemade."
Crafts are all on the upswing. In-person holiday shopping now ranks in the same high-risk category as climbing Mt. Washington wearing flip-flops.
The grape jelly tale
"We're going to get bottles of pickled vegetation that look like illus­tra­tions from an H.P. Lovecraft horror story," I moaned to the Scholarly Gentleman. "Hunks of peanut brittle that will cement my teeth together for a week!"
"I'll take care of the peanut brittle," he offered. He's always eager to help.
If my attitude toward homemade gifts comes off as snarky, chalk it up to paranoia. I can't see a homemade canned good without thinking about the time I trashed my kitchen attempting to make grape jelly, suspecting, as I removed paraffin from my hair, my cabinets, and my counters, that I now had 12 cute little jars of Clostridium botulinum.
The quilt tale
Avoiding foodstuffs when giving homemade gifts is no route to safety, though. In my experience, clothes and decorative items are fraught with peril — partic­u­larly if you've made the mistake of customizing them. Think of sweaters that inadver­tently betray the giver's unflat­tering impression of the recipient's shirt size. And then there was the lap quilt I made for my aunt one Christmas. It featured an embroi­dered image of the beloved RV she and my uncle bought for their retirement. I sewed like mad and The Scholarly Gentleman sped to the UPS Store to dispatch it at the last minute.
I was aston­ished when my aunt called that evening. Surely the quilt couldn't have reached Los Angeles that fast.
"I'm so mad I could divorce him!" she yelled. "Jim sold our RV and he didn't even tell me!"
I made sympa­thetic noises into the phone. The second I hung up I texted her daughter, instructing her to intercept UPS, make the quilt disappear, and substitute a nice table­cloth from Macy's under the Christmas tree. If my aunt and uncle got divorced, it wasn't going to be my fault.
The chair tale
My last tale of warning involves my friend Ray, who built a cedar Adirondack chair and gave it to me for my patio. The name "Susie" was carved into it.
"But I'm not — ," I began.
Ray sheep­ishly explained that his girlfriend, Susie, had dumped him — just as he was putting the finishing touches on the chair. The chair was indeed lovely, but I got so many questions about it that I finally re-gifted it — to a woman named Susie.
As for Ray, I knitted him a cap. It was exactly the right size, but I don't think he liked the name "Arturo" on the ribbing.