By Karen Anderson, Club Humorist
The times we live in will go down in history as the Auto Age. Not the Age of the Automobile (so last century!), but the age of technology — equally high-powered and far more dangerous. I speak here of: auto-clean, auto-cook, auto-dial, auto-ship, auto-pay, auto-complete, and their evil cousin, the dreaded auto-correct.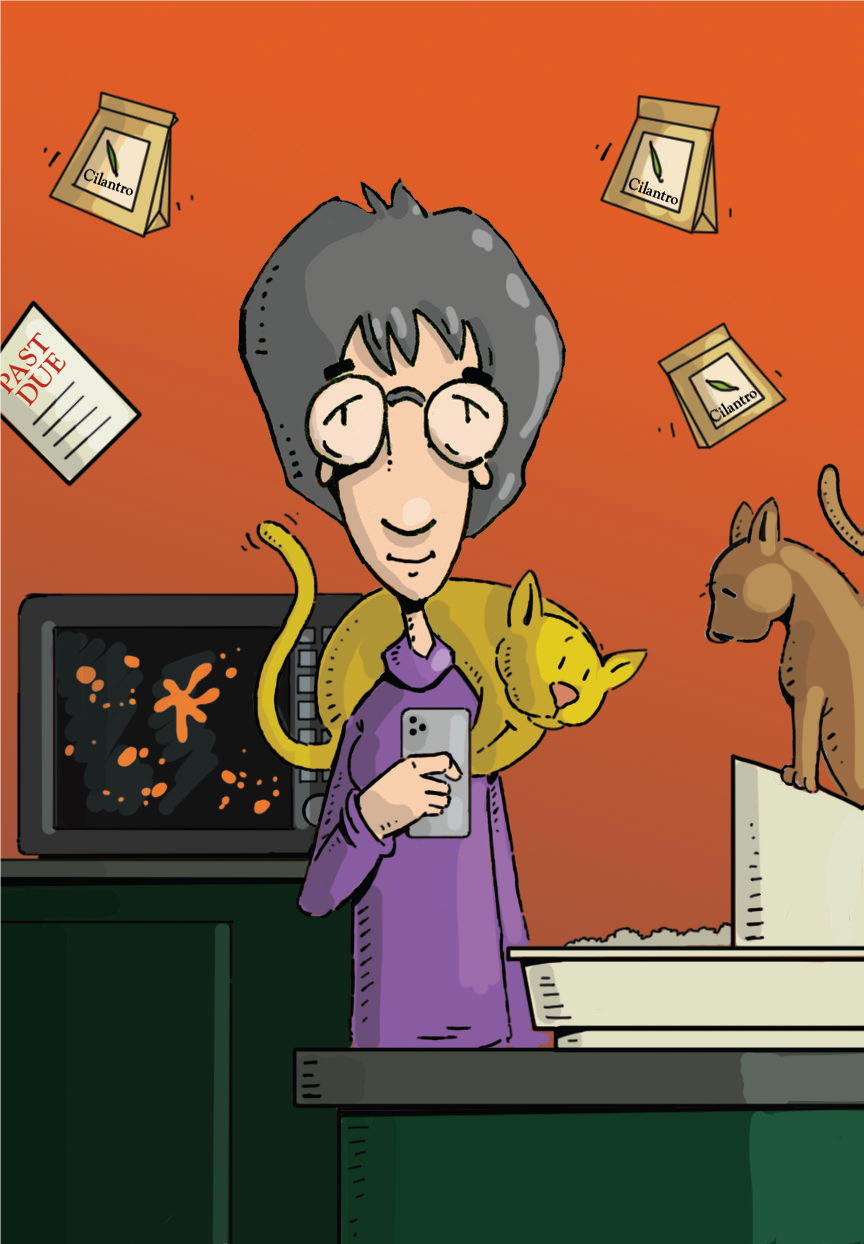 When these systems work properly, they're time-saving and conve­nient. When they fail … that's life in my house on an average day.
Just about any piece of technology we purchase, from a smart­phone to a vacuum cleaner, comes with an "auto" setting. In fact, some appli­ances have no manual functions at all! A perfect example of this is the very popular auto-cleaning cat litterbox.
Yes, we bought one.
The auto-cleaning litter box works on this basic principle: A motion sensor spots your kitty entering the box and starts the cleaning cycle. When a timer estimates the kitty is finished doing its business, the auto-clean machinery takes over. It rakes or sifts the used litter and transfers the cat's leavings into a plastic bag in a scent-controlled chamber. You, spared the daily horror of shoveling cat litter, will eventually have to take the filled bag to the trash. And some of the more sophis­ti­cated machines will (automat­i­cally!) beep, light up, or even ping your smart­phone to remind you of this critical chore.
Cat owners love the auto-cleaning litter box for obvious reasons. Cats love the thing because it's one more system for them to outsmart. One owner reported that instead of leaving the domed litter box, her cat would stand stock still, waiting out the timer, so it could take an exciting ride on the rotating sifter.
My cats were even savvier. They took one look at the rotating space-capsule litterbox and refused to go anywhere near it.
There's our microwave with the auto-cook setting for reheating soup — the one that quickly coated the interior of the appliance with exploded beef stew. Sadly, the microwave has no auto-clean feature.
How about the auto-ship feature at our online grocery store? I once purchased cilantro, and now some misguided algorithm plops cilantro into my online shopping basket every week — appar­ently so I can enjoy removing it.
While we're mostly powerless against algorithms, we can, of course, change the default settings on many appli­ances and devices. All you need to do is to figure out where you put the 60-page manual and read pretty much the entire thing. Good luck with that!
Last week I was strug­gling to send a text message to my friend Nina (the app refused to believe that I wanted to meet her in B'ham, not "Bram") when the Scholarly Gentleman came in waving a final notice for an unpaid utility bill.
"How did that happen?" I asked, horrified.
He shook his head. "No idea. I mean, we had our account set for autop — "
"Never mind," I said, and pulled out our old, reliable checkbook.