By Karen Anderson, Club Humorist
We live on a quiet street in a quiet neigh­borhood. The appearance of new homeowners is big deal — especially when they start building a fence.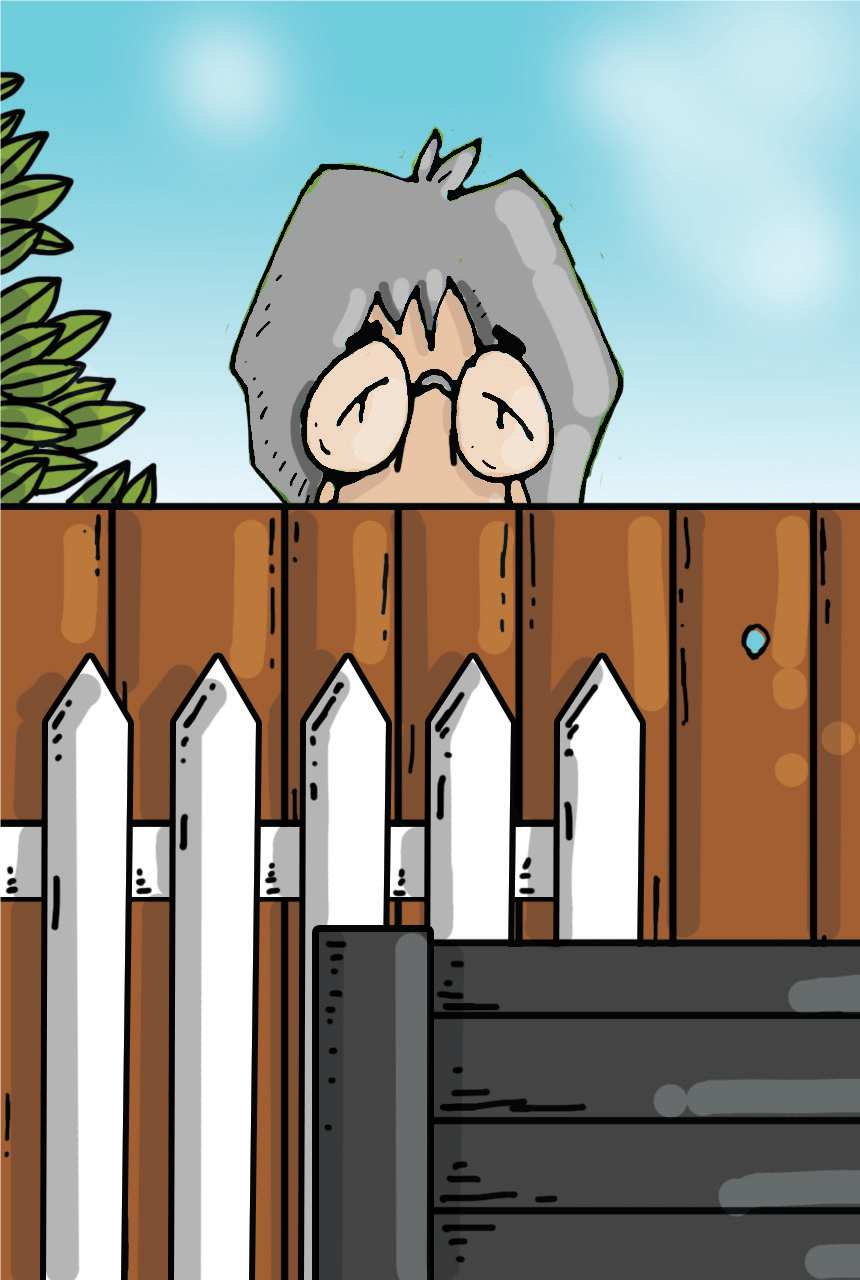 "They're out there digging post holes!" I call to the Scholarly Gentleman. He looks up from his book and scratches his sideburns. I imagine a cartoon speech bubble forming over his head with the words, "That's nice, dear."
"No one else has a fence in their front yard," I fret. "This will change the character of the street."
He puts the book down and joins me at the window. "Well, they have three large dogs. Maybe kennel fencing?"
I envision slavering canines rushing a chain-link fence, snarling ferociously.
Seeing my alarm, the Scholarly Gentleman backs off. "They're young and kind of Goth-looking," he observes. "So maybe something in black wrought iron? You know, with a really nice custom gate."
He goes back to his book. He knows I'll be checking the window all afternoon because I have a fasci­nation with fences. It started when I was a kid.
I grew up on Cape Cod, where every cottage on the street had a rustic split-rail fence made of weathered pine. Our mothers loved them because they looked so quaint with climbing roses twining along the rails. We kids loved them because nearly every summer an unwary grownup sat on one and the rail broke. If that failed as a form of enter­tainment, we'd get up and walk on the rails until someone's mother yelled at us. Or until one of us fell off and broke their arm, in which case we enjoyed their mother yelling while packing them off to the doctor's office. I never broke my arm, but I did get quite a few rose thorns in my rear.
There are chain-link fences, tradi­tional vertical cedar fences, picket fences, elaborate wrought-iron fences, and shiny aluminum and vinyl fences. The latest trend (which I adore) is horizonal wood fences, the boards stained mahogany, dark brown, or flat black.
Keep in mind that any one of these fence styles, even chain-link, would be an improvement over the hodge­podge of strange fences that surrounded our house when we bought it.
We live on one of those odd North Seattle streets where deep, narrow lots back up against shallow, wide ones. As a result, we have two back-yard neighbors. At some point, merci­fully lost in the fog of time, the owners of those two houses had very different ideas about fencing.
The family on the left went with a four-foot-high cedar privacy fence atop a retaining wall of mismatched stone trimmed with leftover bricks. They painted it red.
The family on the right went with a 10-foot-high gray cinderblock retaining wall that became the foundation of a garage that towers over our property. Beside the retaining wall is a white picket fence.
The previous owners of our house must have been perfectly fine with — or perfectly oblivious to — the bizarre assortment of fencing in their back yard. They focused on building a completely different type of fence for the side yards. They used rare "grape stake" cedar, twisty three-inch wide boards that end in spikes at the six-foot level. The grape-stake fence is beautiful. It would be even nicer if they hadn't set the untreated cedar posts directly into the wet ground. By the time we bought the place, the posts had rotted and the grape stakes were about to impale the neighbors.
You won't be surprised to hear that we've spent the last several years fixing, beauti­fying, replacing, and (as a last resort) camou­flaging these mismatched fences. The red fence is now plain cedar, the cinderblock is painted a cheery Southwest yellow, and the picket fence is hidden by a vine maple. The grape-stake fencing, once again upright, threatens no one but invading raccoons.
As for our new neighbors, their front fence turned out to be low, aluminum, and — as predicted — black. Their three large dogs do appear occasionally. But rather than snarling, the dogs offer stuffed toys over the fence to anyone passing by.