By Karen Anderson, Club Humorist
The 11 p.m. Honk! Honk! Honk! outside reminded me I've never written about my car. How could that be? My car is a vital household appliance – requiring driveway space, garage space, and frantic late-night hunts for keys so I can shut off the alarm.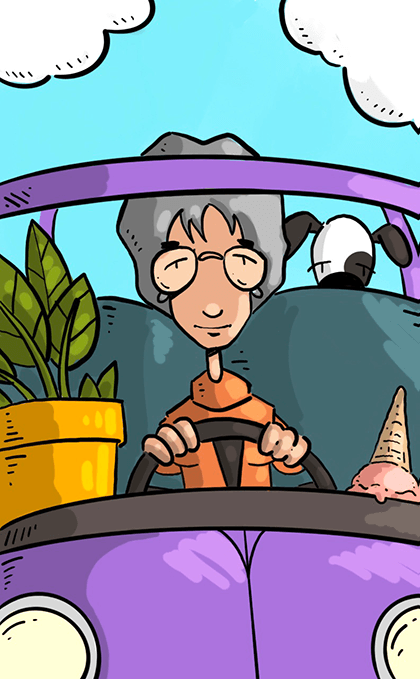 I've thought a lot about cars recently. I'd like to say that's because I'm worried about global warming. But really it's because car dealers are calling to ask if we want to sell one of our cars – in one case, for more than we paid for it.
I wish I could sell them some of the lemons I've owned!
The curdled Camaro
While my high school friends cruised in gas-guzzling hot rods and sputtering Volkswagen vans, I shared a Chevy Camaro with my father.
The low point in this ill-advised car share came when my then-boyfriend and I went out for ice cream. We got into a terrible argument. It ended the relationship – but not before we'd thrown our cones at each other.
He stormed off and I tried to remove ice cream from the car's interior. I did a bad job. My father drove the car to work the next day, parked in the hot sun, and returned to a curdled Camaro. I was grounded. The car smelled sour for years.
"The worst car ever made"
When I graduated from college, my parents gifted me with a car now known as "the worst car ever made" – the Chevy Vega. It was so awful, when I moved to New York some years later, I couldn't bring myself to sell it to anyone. I gave it to a cult.
The frozen Toyota
My next car was a tiny Toyota that matched a cub reporter's tiny salary. Unfortunately, the car was no match for the cold New England climate where I was working. Melting snow got inside the car doors, the locks froze, and I spent the winter climbing in and out of the car via the hatchback, dressed in my business suit and high heels.
The Toyota eventually thawed out and I drove it to Seattle, where it got squashed flat while parked in front of my Ballard apartment building. Its replacement, a fourth-hand Mazda station wagon, was a sad little thing that could barely climb Queen Anne Hill.
And then…
Then came a good job and a great house with a driveway. Did I splurge on a Porsche or the vintage woody surf wagon of my dreams? No!
For some reason, I keep buying subcompact hatch­backs, the latest of which is a Honda Fit. It's a fasci­nating model, designed to appeal to college students but popular with my demographic: late-middle-aged women who haul around garden supplies, bicycles, and big dogs. My neighbor was so impressed with my Fit she bought one, too.
Now you'll have to excuse me: There's a car honking out front and it'll take a while to figure out if it's her Fit or mine.