By Karen Anderson, Club Humorist
The latest must-have addition to contem­porary homes is not a marble counter, a walk-in shower, a man cave, or even a "she shed." It's a catio — a screened outdoor room filled with cat trees and other amenities where our feline friends can safely frolic.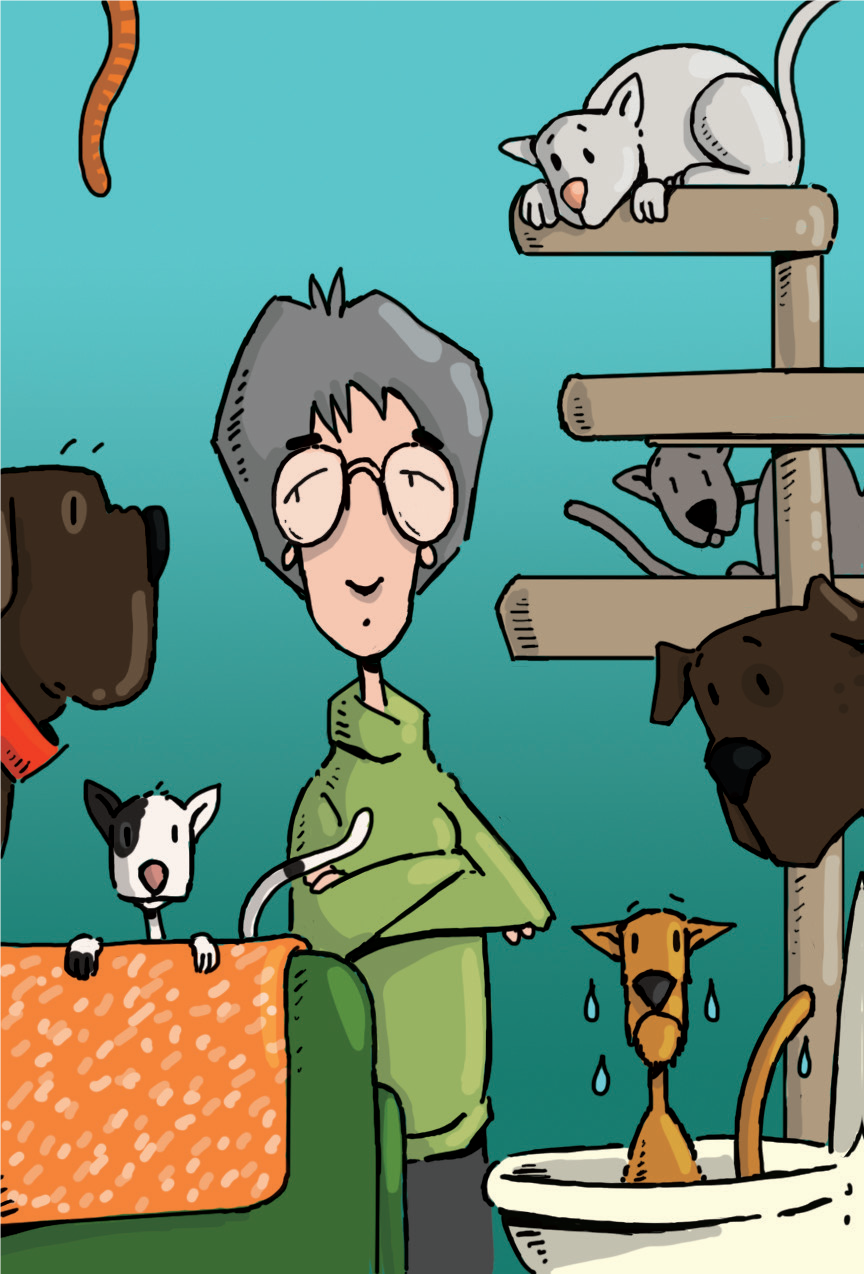 The Scholarly Gentleman and I are contem­plating adding a catio — but not to protect and entertain the cats. We just want to get them out of the house so we can sit down on our own furniture for a change.
We had our vintage sofa reuphol­stered in blue mohair last winter but you'd never know it — we keep it draped with a decidedly unglam­orous "pet protector" in a print that doesn't show cat hair.
Our house had, at last count, nine beds for cats and two beds for humans. Guess where the cats sleep? On our bed — with the exception of the squir­relly orange tabby. She prefers to glare at us from across the room while curled up on my green velvet club chair. I woke up one morning and realized that the green velvet now appeared to be…orange. We bought another machine-washable "pet protector."
Going to the dogs
Now that you've finished laughing at us cat owners, let's check out a dog house. And I don't mean the kind that people put in their back yards. I walked into our friend Jessica's house last month and thought for sure that her pre-teen daughter was hosting a sleepover. The floor was covered in brightly flowered quilts.
But, no, those turned out to be dog beds for the family's two gargantuan Tibetan Mastiffs. And there seemed to be one or two of them (the beds, and the Mastiffs) in just about every room.
"They want to be wherever we are," Jessica admitted.
I didn't dare peek into the master bedroom, but I sure hope they have a king-sized bed. And that the dogs let Jessica sleep in it.
Water features
Dogs and cats love bathrooms because bathrooms have water. No matter how many water bowls you put in the kitchen or the mudroom or the pantry, the pets will turn up their snoots and sneak into the bathroom.
Dogs are notorious for drinking from the toilet bowl. Some cats have been known to try it as well. We are strict about keeping the toilet lid down. But that resulted in one of our cats discov­ering that the toilet lid makes a great launching pad for leaping up to the sill of the bathroom window.
Of course, there came the day when a house­guest left the toilet lid up. When the cat raced into the bathroom and leapt for the lid, she got quite a surprise.
Have you noticed that cats like to spend hot summer nights dozing in a cool, damp porcelain bathtub? It turns out that if you reach in the next morning and turn on the shower, both you and the cat can get a very brisk start to the day.
Cat walks
Several years back, a California homeowner paid a contractor $35,000 to install little elevated walkways and stairways on the walls and ceilings of his house. This was so his 18 felines could race from room to room without ever touching the ground. Friends of ours in Seattle built something similar, though in their case it was to enable their two cats to escape pursuit by their two dogs. (Don't feel sorry for the cats — they actually taunted the dogs, then sailed up the walls.)
While the Scholarly Gentleman and I are cat enthu­siasts, we have left our walls intact and limited ourselves to buying cat trees. Our last purchase was a custom-made five-tier tree called The Sequoia. We started to get worried when we realized that it barely fit in our car. But we went into complete panic mode after we lugged it up the front stairs and discovered that it didn't fit through the doorway to my office. In fact, the only place it fit — and it was a tight fit — was our dining room. This is why any formal dining experience at our home now includes the possi­bility of a cat emerging from the tree and pouncing onto your plate.
For this reason, we rarely serve fish.